DownStream Products 2021 (14.6.1855) (Win x64)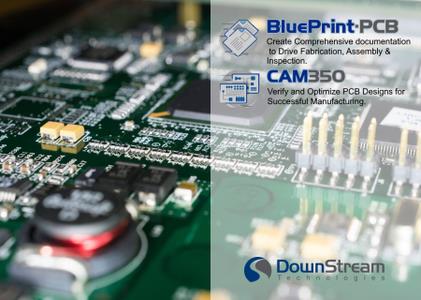 DownStream Products 2021 (14.6.1855) | 1.7 Gb
Product:
DownStream Products
Version:
2021 (14.6.1855)
Supported Architectures:
x64
Website Home Page :
www.downstreamtech.com
Languages Supported:
english
System Requirements:
Windows *
Size:
1.7 Gb
The software developer DownStream Technologies, LLC is pleased to announce the availability of CAM350/DFMStream 14.6 (1855) & BluePrint-PCB 6.6 (1855). This major update includes many new functionality and fixes to various user-reported issues from the previous release, providing an overall more stable experience.
[b[i]DownStream CAM350 14.6 Build 1855 Release Notes – Date: 2/10/2022[/i][/b]
– Visual Basic API with Record and Playback
– DFM Analysis for Rigid Flex Design
– Net Bridge Support
– IPC-2581 Revision C Support
– Expanded Support for Rigid-Flex Layer Types
– Support for Open GL Graphics Acceleration
69700, 68750 Performance improvement for File-Open operations over network using mapped drive
69602 "Add dual sided parts" in PCB View does not turn on components with only opposite side graphics
69434 CAM350 Panel overwrite – incorrect when board image flipped using OGL in CAM350
69197 Enhancement to format "Lines" in PCB data as "hollow" or with a line style (as you can routes, pins and copper)
67391 Some of the Backdrills are missing in backdrill stackup for this design Enh Japanese language support installation
[b[i]DownStream BluePrint 6.6 Build 1855 Release Notes – Date: 2/10/2022[/i][/b]
– Support for OpenGL Graphics Acceleration
– BluePrint Panel Translation to CAM350
– Net Bridge Support
– Expanded Support for Rigid-Flex Layer Types
69746 Barco import crash
69723 3D representation is incorrect after flip panel creation
69697 Failure on IPC2581 import for Assembly function mode
69690 World View does not keep entire board outline in view for this design
69689 DRC should be enabled in the RE bundle
69687 Drill to drill check reports false errors
69678 Failure running design compare for this design
69674 Import DXF fails for this dxf file
69648 Move circles from 1 layer to another failure
69589 File Export Netlist IPC D356 A – file incorrect
69587 ODB++ import – flatten panel – steps are dropped
69498 Mill path properties missing group select
69434 CAM350 OGL issue – Panel overwrite in BluePrint incorrect when board image flipped
69269 VB Script Record – File Import ODB++ Advanced Option not recorded
69171 Support for Chinese and Japanese languages
67391 Padstacks are offset after ODB++ import for this design
67294 Assembly drawing intelligent outlines not displayed for rigid-flex design
61783 Mill tab failure for this design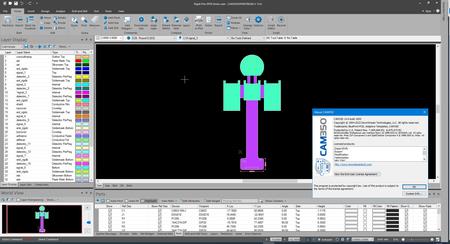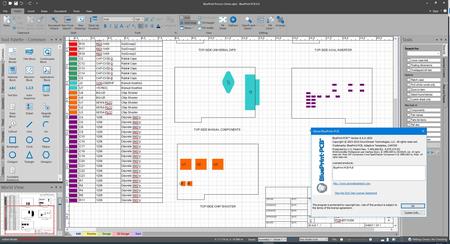 DownStream's solutionsare the defacto standard for engineering professionals to post process PCB designs. Our tools help to create and distribute all the deliverables required for a complete PCB manufacturing and assembly release package.
CAM350is the industry de facto standard for verification, optimization and output generation to efficiently and effectively drive PCB fabrication and part of the truly integrated manufacturing data preparation solution from DownStream Technologies.
Today's complex PCB designs require comprehensive verification before they are transferred to the PCB fabricator to ensure a successful and timely manufacture of bare boards. Problems arising during PCB fabrication can drastically impact product schedules, result in costly design re-spins, and require modifications to the design that might compromise the design's integrity and intent. Inspecting, preparing and validating the PCB design prior to release to manufacturing will result in a significant increase in efficiency, less risk of design re-spin, and, most importantly, successful electronic products, built faster, at less cost.
3D visualization and documentation of manufacturing data helps to minimize manufacturing defects and delays in production.DFMStreamis a comprehensive, yet easy-to-use tool suite designed to help engineers and designers analyze, verify and optimize a PCB design for successful manufacturing. It checks design and manufacturing rules on PCB design databases, Gerber and NC data any time during the PCB design cycle. DFMStream also fosters collaboration between engineer/designer and fabricator.
BluePrint-PCBworks your PCB CAD system and/or CAM350 to help you quickly produce comprehensive electronic drawings to drive PCB fabrication, assembly and inspection processes.
DFMStream Webinar CAM350 & DFMStream Version 14.x
This video discusses the reasons for using a third party tool prior to releasing a design for manufacturing. This video features the new versions of DFMStream and CAM350. 3D, Stackup Visualization, enhanced GUI; are among the new features discussed.
DownStream Technologies, LLCis a software and services company focused on helping high-tech engineering organizations optimize and automate the PCB Release Process. We deliver a truly integrated manufacturing data preparation platform. Our solutions allow engineering and manufacturing teams to work together to transition Printed Circuit Boards (PCB) designs into successful, physical PCBs, faster and and without compromise.
DOWNLOAD
(Buy premium account for maximum speed and resuming ability)